In Memory
Robert Heaven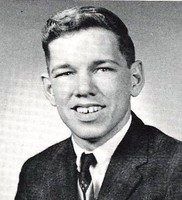 Obituary for Robert D. Heaven
August 31, 1948 - April 19, 2016
HEAVEN – Mr. Robert D. Heaven aged 67 passed away Tuesday, April 19, 2016. He was preceded in death by his parents, Robert L. and Delores Heaven; sister, Toni Williams; brother, Randy Heaven.

Surviving are his wife of 35 years, Elizabeth; children, Julie Saladino, Kelli (Jason) VanderKolk, Ashley Heaven; grandchildren, Niko, Dominic and Nina Saladino, Jaydon, Logan and Saleen VanderKolk; sisters, Phyllis (Gary) Liscombe, Mary (Rich) Jankowski, Jil (Mark) Spangenberg; aunt, Gaylene (Gordon) Furman; also surviving are Elizabeth's mother, Lula Barney; and her brothers, Donnis (Sharon) Straight II, John (Tiffany) Straight, Larry (Gerri) Straight; several nieces, nephews and cousins.

Bob proudly served his country in the US Marine Corp., during the Vietnam War. He retired from VanHaren Electric after 22 years as an Electrician.

Per his wishes no services will be held at this time.

In lieu of flowers, memorial contributions in his memory are suggested to Kettle Lake Elementary School Playground Fund, 8451 Garbow Dr. SE., Alto, MI 49302.